Dr. SHALU KOTWANI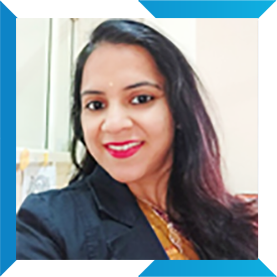 Dr. Shalu Kotwani has more than 9 years of academic experience in her professional career. She has expertise in the numerous subjects of MBA and BBA courses namely, Income Tax, Financial Management, E-Accounting & GST, Cost Accounting, Management Accounting, Portfolio Management.
Ph.D. (Management), M.A. (English Literature), MBA (Finance and Marketing),
B.COM , Certification in Management Accounting by NPTEL
Assistant Professor- Finance
Qualification:
PhD. in Management from DAVV, Indore.
MBA with Dual Specialization in Finance and Marketing from DAVV, Indore.
MA in English Literature from Vikram University, Ujjain.
BCOM. from Vikram University, Ujjain.
Certified Digital Content Writer from Henry Harvin Education
Area of interest:
Her area of interest varies from various MBA and BBA subjects such as Basic Accounting, Financial Accounting, Security Analysis and Portfolio Management, Income Tax and Planning, Working Capital Management, International Finance, Financial Markets and Services.
Research and Publications:
She has presented and published more than 20 research papers and 2 case studies in various National, International and IIM conferences, and case study workshops. She has attended more than 18 seminars, workshops and FDPs on Capital Market, Business Analytics, MOODLE Learning, Human Resource Management and Research Methodology. Her research paper titled "A Visualization Approach for Comparing Financial Performance of Pharmaceutical Companies" is published in ABDC Journal named Journal of Contemporary Issues in Business and Government.
Awards and recognition:
Received 2nd Best Paper Award in Marketing Track in the International Level Entrepreneurship Summit "AVLOKAN 2.0" organized by JAIN (Deemed to be University), Banglore in 2022.
Received Best Paper Writing Award in 6th International Conference on 21st December 2019 organized by MRSC, Indore.
Received Best Paper Award in National Conference organized by Shri Vaishnav Institute of Management, Indore in 2020.
Achieved 3rd position in Vikram University in M.A. English Literature.
1st position in Government Degree College in M.A. English Literature.