Student Achievement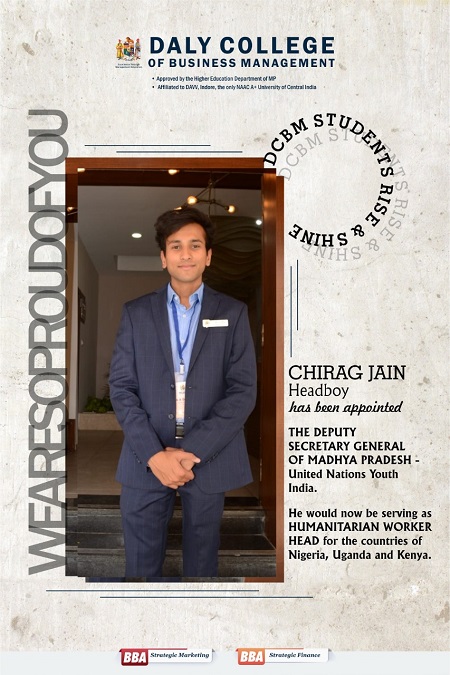 Chirag Jain, Headboy has been appointed the Deputy Secretary General of Madhya Pradesh – United Nations Youth India. He would now be serving as Humanitarian Worker Head for the countries of Nigeria, Uganda and Kenya.
---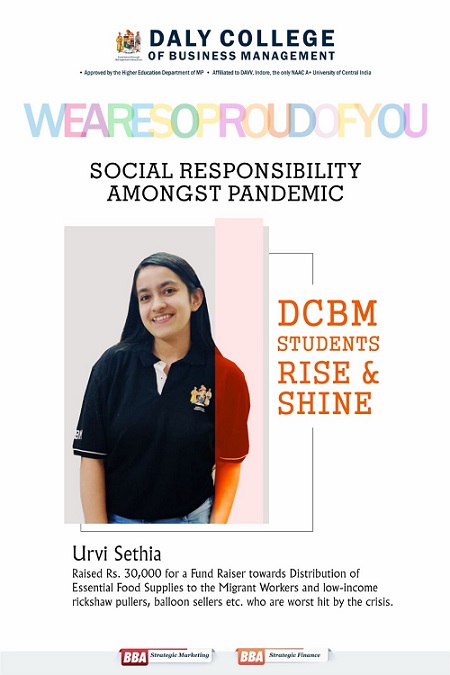 Urvi Sethia raised Rs.30,000 for a fund raiser towards distribution of essential food supplies to the migrant workers and low-income rickshaw pullers, balloon sellers etc. who are worst hit by the crisis.
---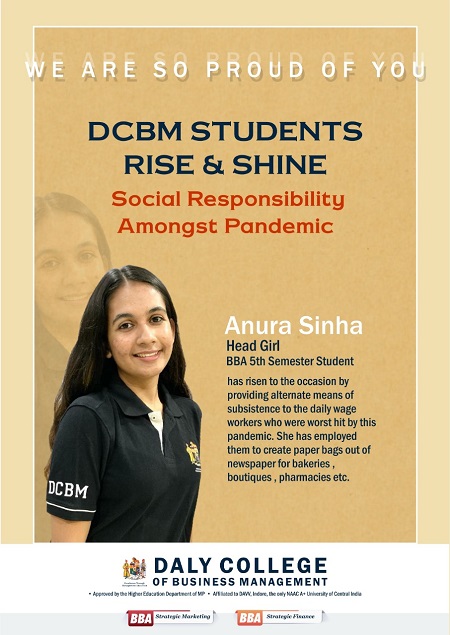 The Head Girl Anura Sinha, a BBA 5 th Semester student, has risen to the occasion by providing alternate means of subsistence to the daily wage workers who were worst hit by this pandemic. She has employed them to create paper bags out of newspaper for bakeries , boutiques , pharmacies etc…We are so proud of you.
---
Heartfelt greetings to the winners of "Creative Sapience'', an event where our students showcased their talents, both existing and newly acquired, in creative ways.
---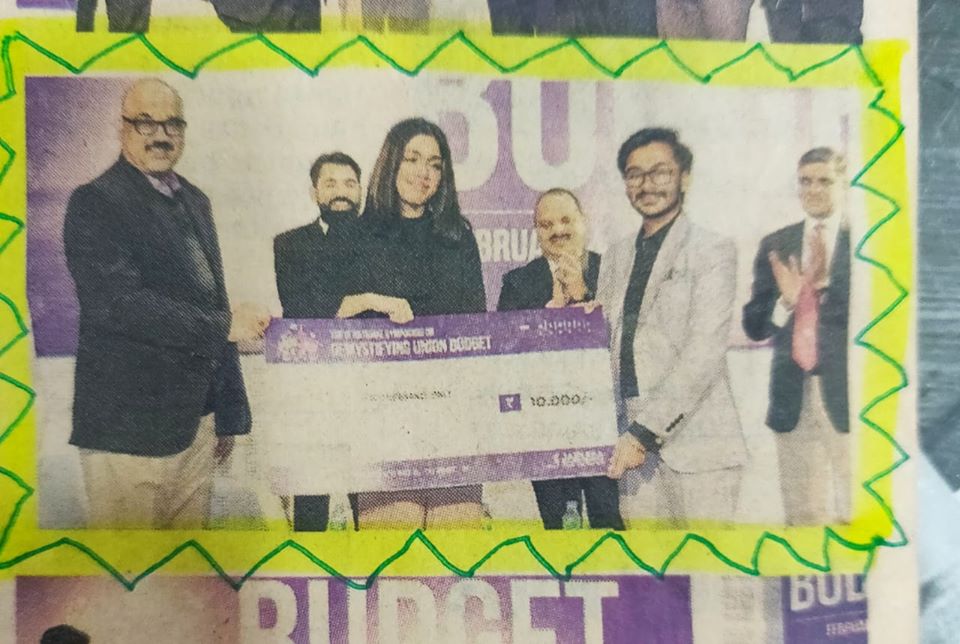 Awards are great but fulfillment, contribution, and passion are better……opined our students Garv Thareja and Mehak Garg who won the first prize of Rs 10,000, featured in The Economic Times and garnered heaps of appreciation at the 9th National symposium on 'Demystifying Union Budget' on 4th February, 2020. The duo emerged triumphant beating 42 other teams from different Management Institutions!!!! Heartiest Congratulations to the duo for this brilliant feat!
---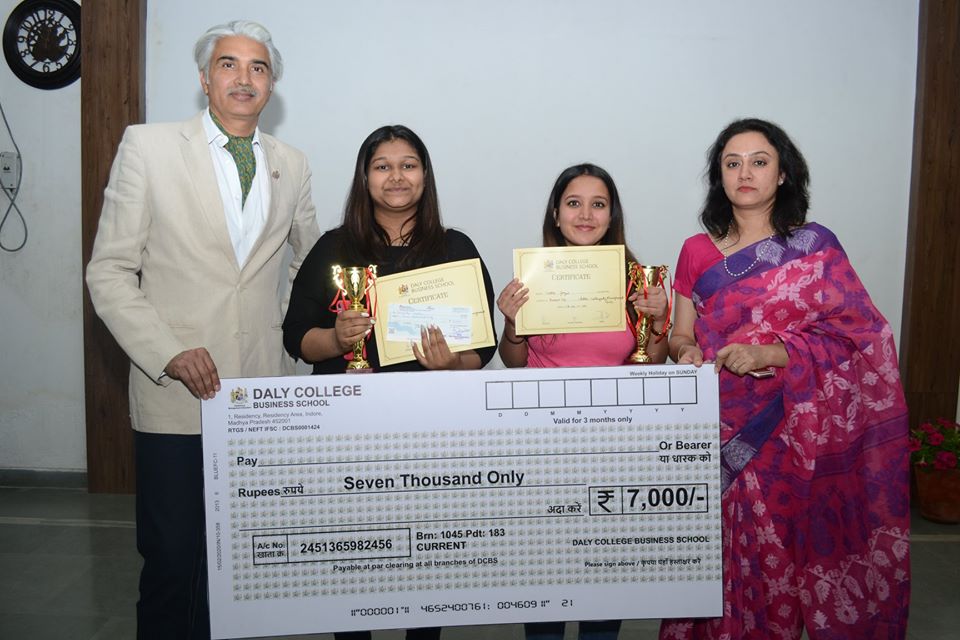 Proving their mettle yet again, Vedika Goyal and Vanshika Laddha lifted the Runners Up Trophies along with a cash prize of Rs 7000 at the Inter College Quiz Competition organised by DCBS. Way to go girls!!
---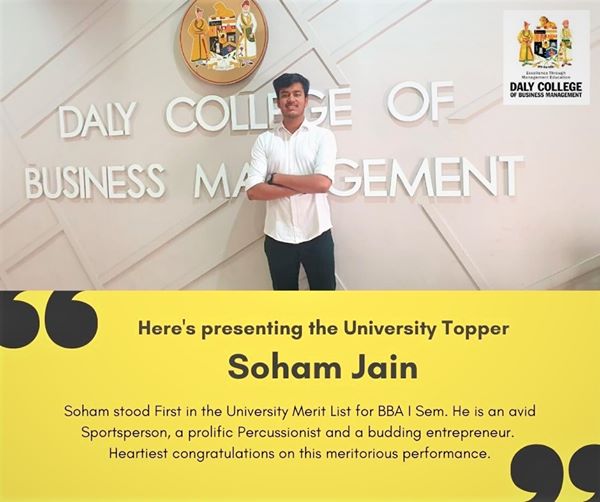 Ability is what you are capable of doing. Attitude determines how well you do it!!! Soham Jain delivered the winning moment by securing the First Position in University Merit List for BBA Sem I. Proud of you dear!!
---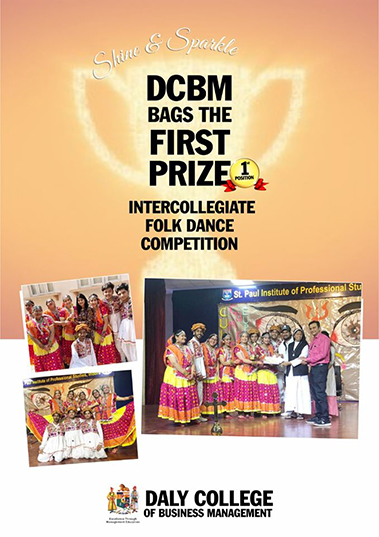 DCBM bags the first prize in Intercollegiate Folk Dance Competition.
---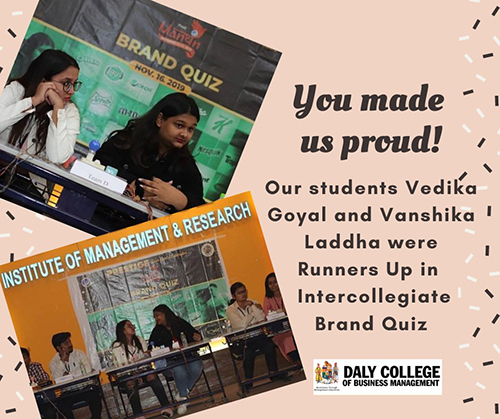 Our students Vedika Goyal and Vanshika Laddha were Runners Up in Intercollegiate Brand Quiz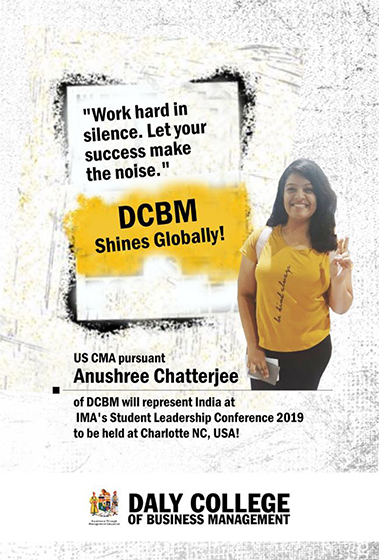 DCBM Shines Globally US CMA Pursuant Anushree Chatterji of DCBM represented India at IMA's Student Leadership Conference 2019 held at Charlotte NC, USA!
---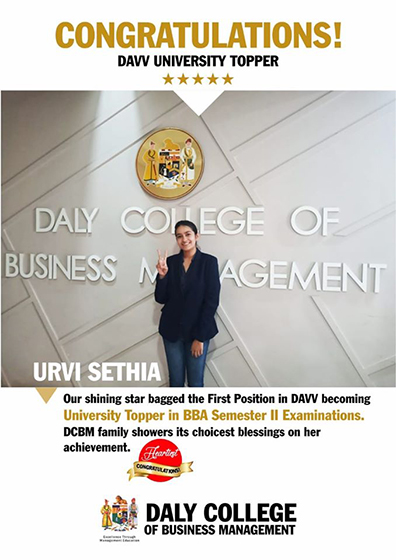 Urvi Sethia our shining star bagged the First Position in DAVV becoming University Topper in BBA Semester II Examinations.
---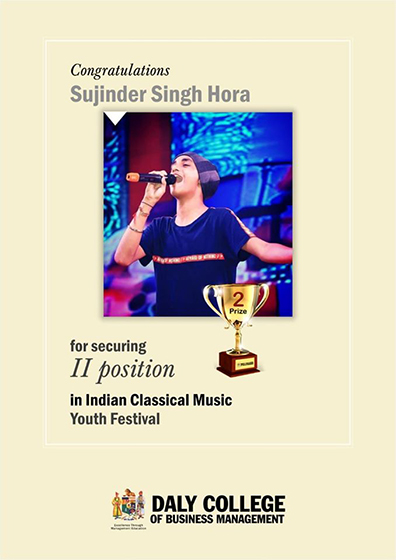 Our singing sensation, Sujinder Singh Hora creates yet another scintillating moment by bagging the second position in Solo singing Classical in DAVV Youth festival!! Keep going!!!