Students Achievements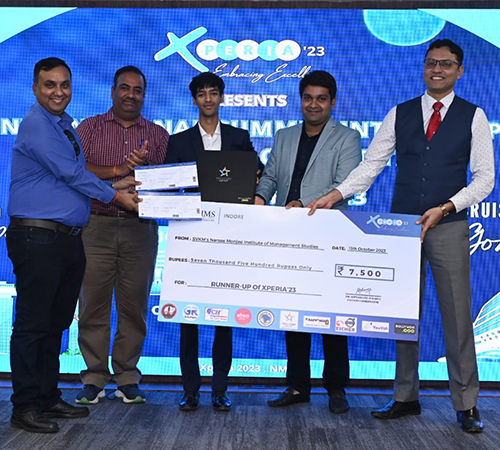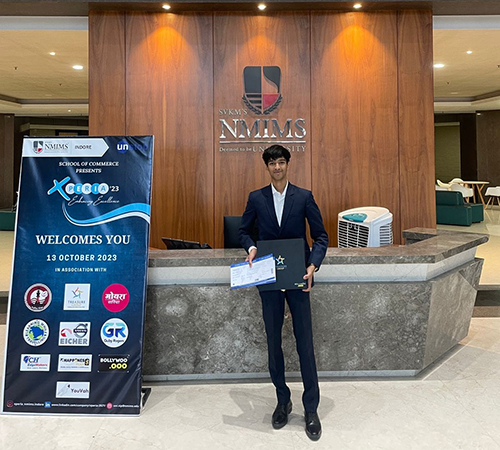 Join us in congratulating Suhaan Bhatt, BBA 3rd Year, on his well-deserved victory trail. He clinched the *First Prize* in the National Level Intercollegiate event for his outstanding Internship Project presentation held at IPS Academy. He was also adjudged Runners Up at NMIMS Experia 2023, another Inter College Project presentation Event.
---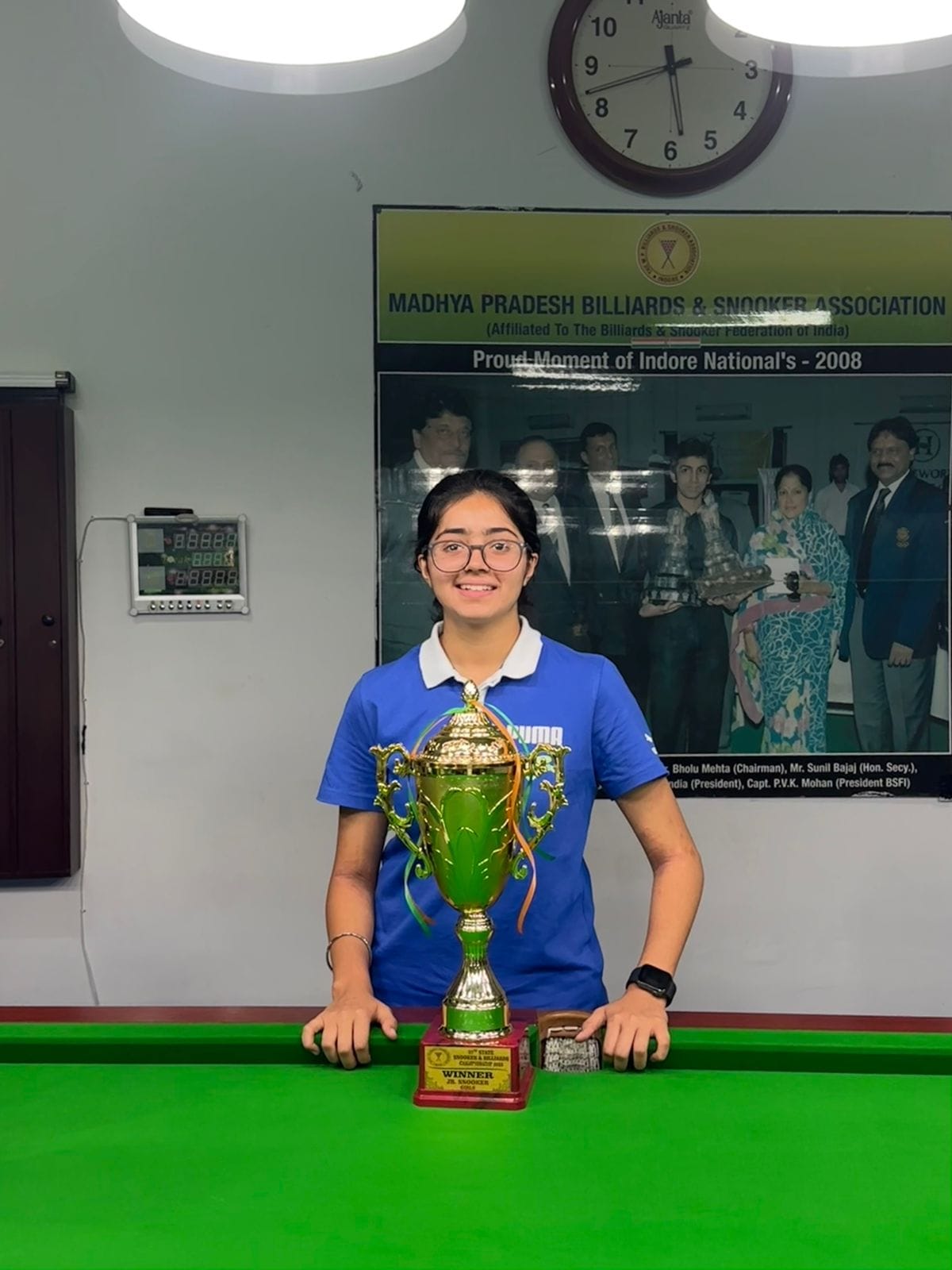 Proud moment for DCBM as Kanisha Jhurani emerged a Champion in the Under-21 girls snooker category in the 37th Madhya Pradesh Snooker and Billiards state championship.
---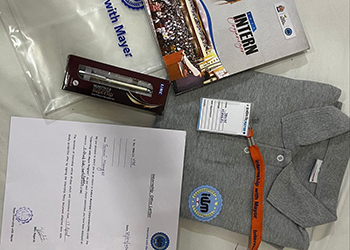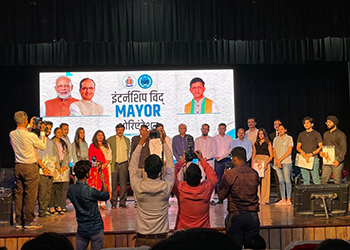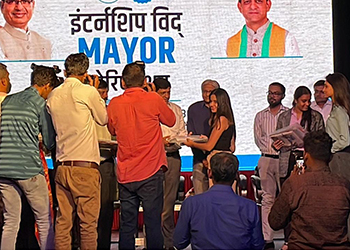 DCBM students Tanvi Mangal, Asmi Patodi, Saumya Bangeja and Mrinal Bose are now a part of the prestigious *Internship with Mayor* program. Tanvi was felicitated by the Mayor during the Orientation program held today.
---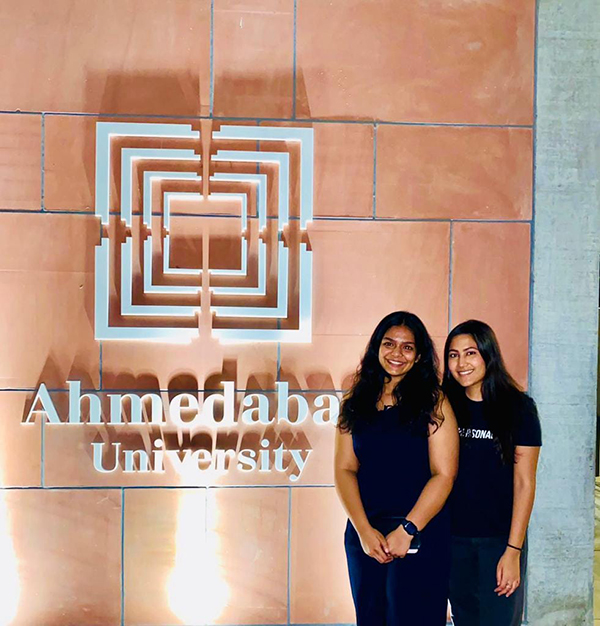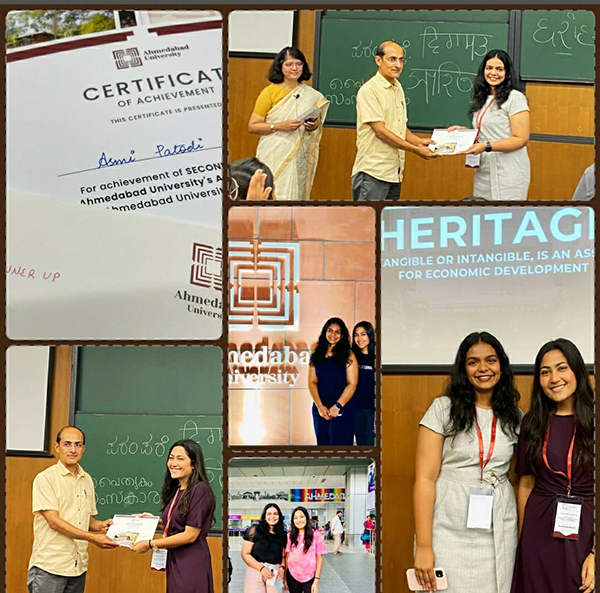 Asmi Patodi wins the National level Debate Competition*. Asmi Patodi and Kaveesha Bagdi, BBA final year students were the finalists at The Ahmedabad University Debate Competition by Centre for Heritage Management. In the Finale round held at Ahmedabad University, Asmi Patodi was declared the First Runner Up. DCBM family is ecstatic at the big win and extend heartiest congratulations to both of them.
---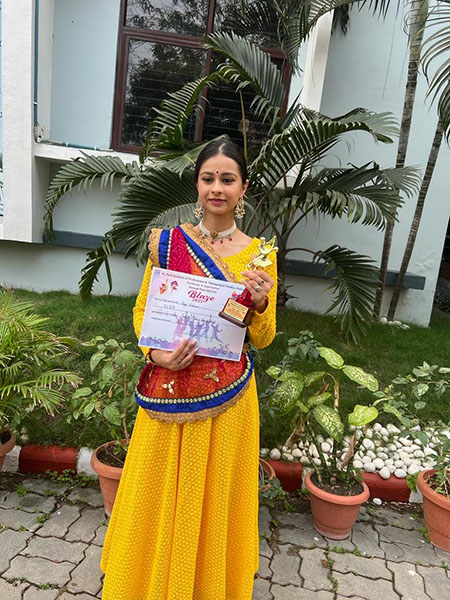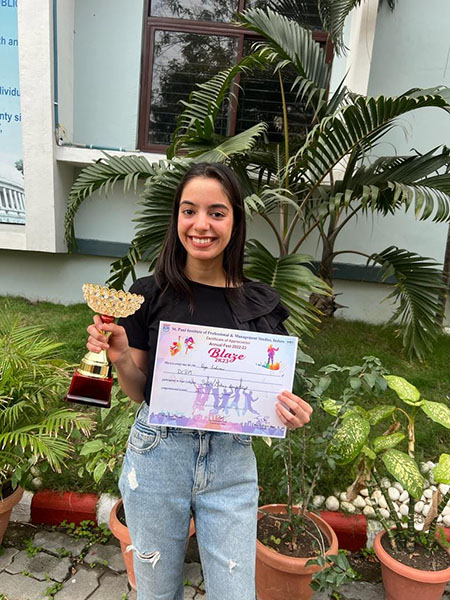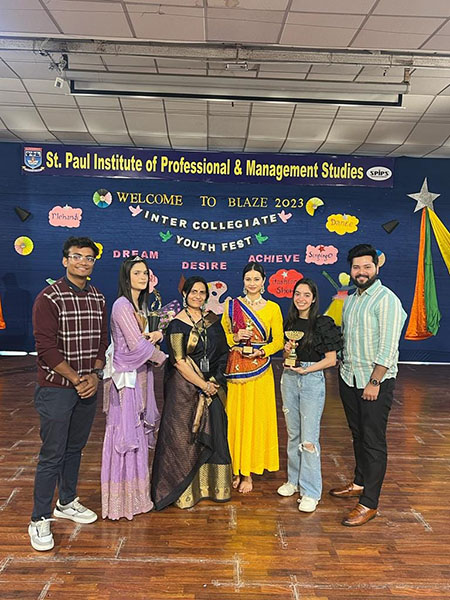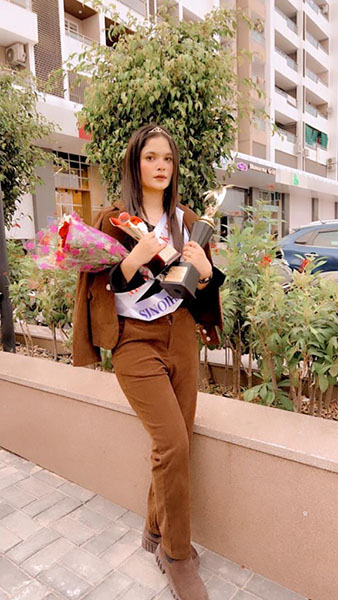 DCBM students prove their mettle.* Rehma Ali, BBA 2nd Year won *First* Prize in *Fashion Walk* , Diya Sadhwani, BBA 2nd Year, won *First* Prize in *Poster Making* and Anshika Rathore , BBA 3rd Year won *Second* position in *Solo* *Dance* at the Inter Collegiate Competition held at St Paul Institute of Professional and Management Studies. Heartfelt congratulations to all the winners.
---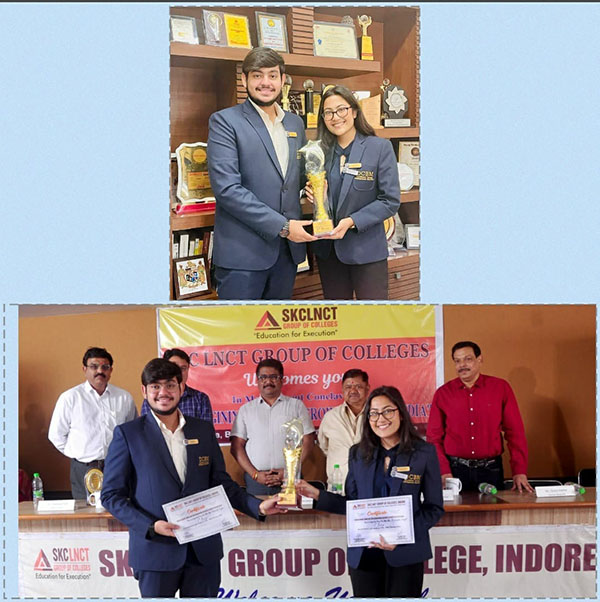 Heartiest congratulations to Kaveesha Bagdi and Ekaansh Vyas for winning the Best Business Idea Presentation at LNCT Group of Institutions. Their idea 'Conscious Closette' was hugely appreciated by one and all.
---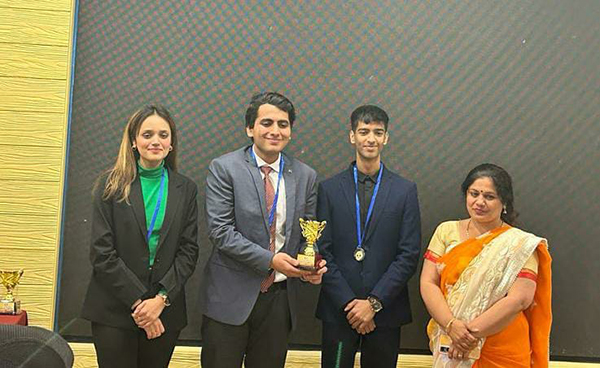 Congratulations to the trio Ram Sharma, Rishika Surya and Suhan Bhatt for winning the second position in National B Plan Competition held at IPS Academy Indore. The team is awarded with trophy, medals.
---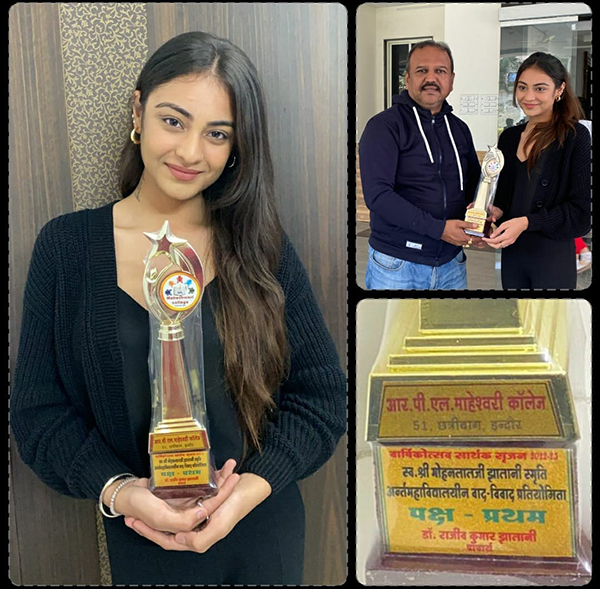 Heartiest congratulations to Head Girl Reet Nanwan for bagging the First Prize in the Inter Collegiate Debate Competition held at RPL Maheshwari College.
---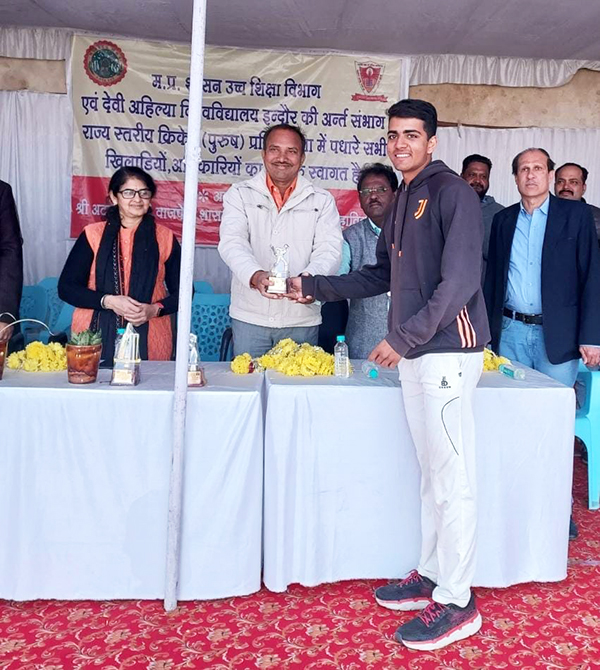 Stellar feat by Nikunj Jain BBA Second Year Student as he gets selected for the Zonal level Cricket Tournament !!* Representing DAVV at the InterUniversity Level Cricket Tournament, he scored a magnificent 300 runs in 3 matches and also took 4 wickets. He had the Best Batsman Award conferred upon him. The icing on the cake is his selection at the Zonal level. DCBM family extends hearty congratulations to him.
---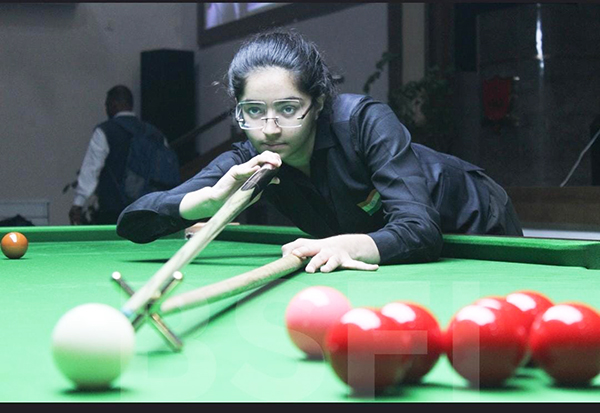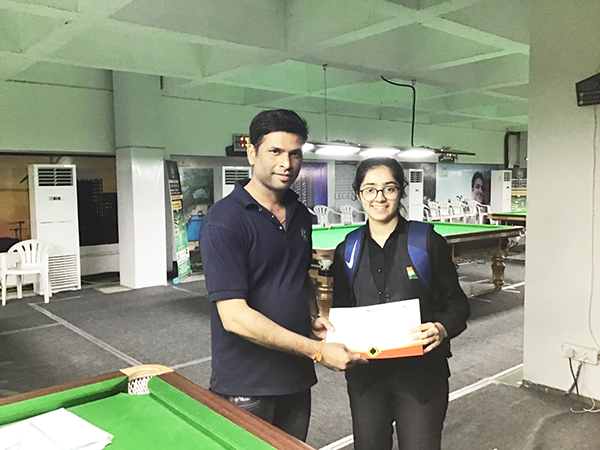 Kanisha Jhurani, BBA First Year student finished as India No. 4 in the Senior as well as Junior category in Snooker and in top 8 in Junior Billiards category in India in the recently concluded Snooker and Billiards National Championship. DCBM family extends heartfelt congratulations to Kanisha for the marvelous feat.
---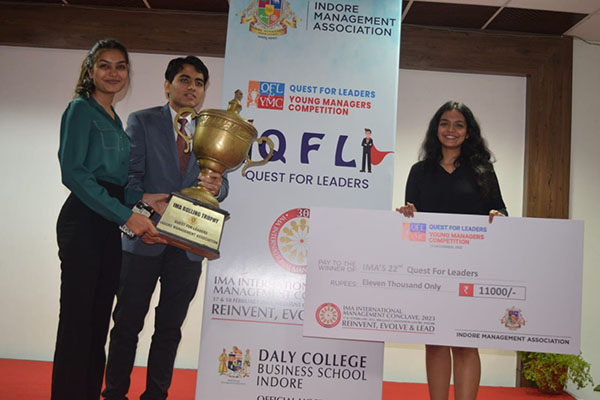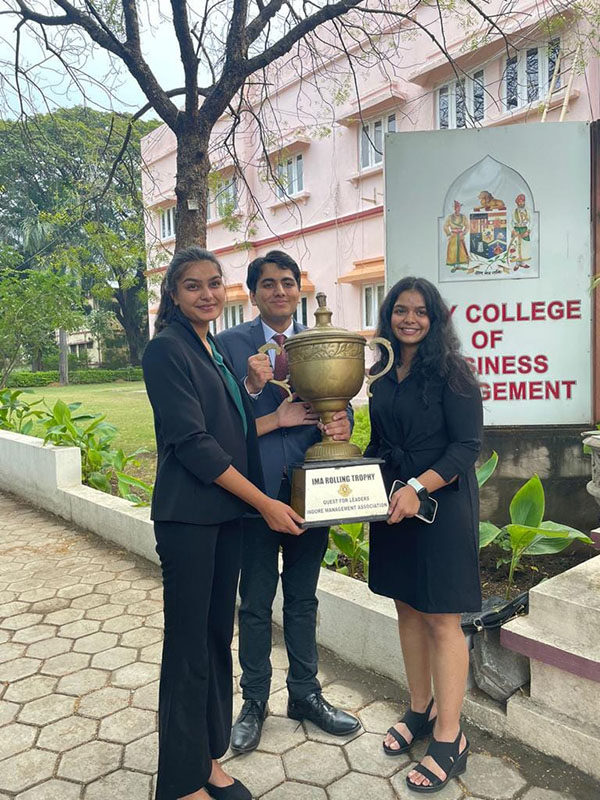 DCBM feels extreme pride in letting out that a team of three, comprising Ram Sharma, Tanisha Agrawal and Asmi Patodi, under the guidance of Principal Dr Sonal Sisodia and Dr Neetika Shrivastava, bagged the most sought for trophy, and cash prize worth INR 11000 at the Indore Management Association (IMA)'s QFL- The Quest For Leader Competition, the most revered competitions in the city of Indore. The theme for the 22nd QFL was Reinvent, Evolve and Lead which revolved around intriguing the young participants to come up with a strategy which businesses could incorporate in their missions, having seen a tremendous stagnation and crumbling post-covid. The winning team will now be felicitated in the presence of esteemed dignitaries in the IMA Management Conclave, which is to take place earlier next year.
---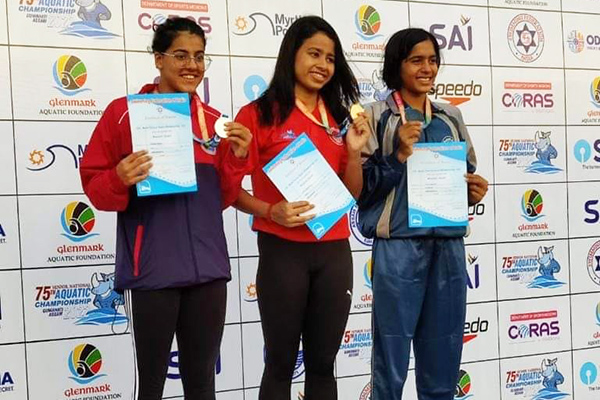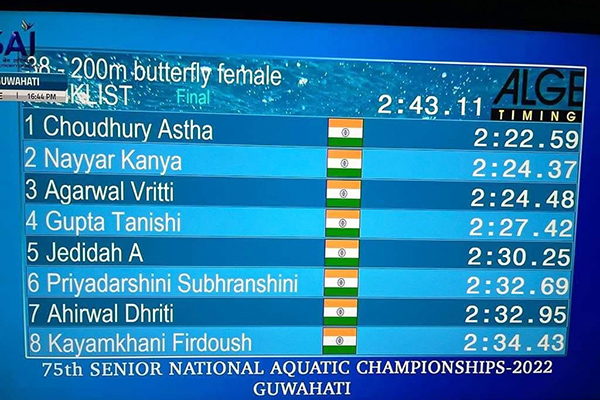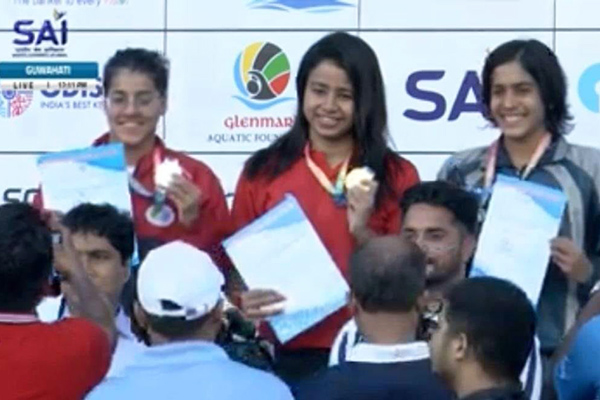 Ace swimmer Kanya Nayyar, First Year student of DCBM has created history with a stupendous achievement. She won a silver medal in the 75th Senior National Aquatic Championship in the 200 Butterfly Category with an amazing timing of 2:24:38 seconds.
---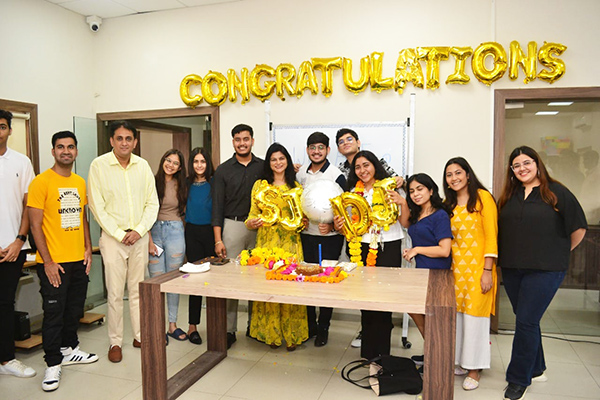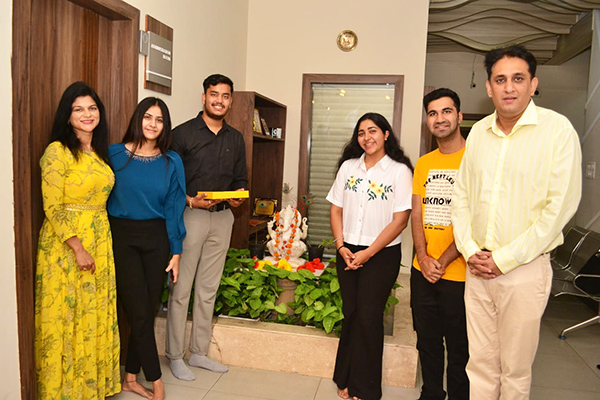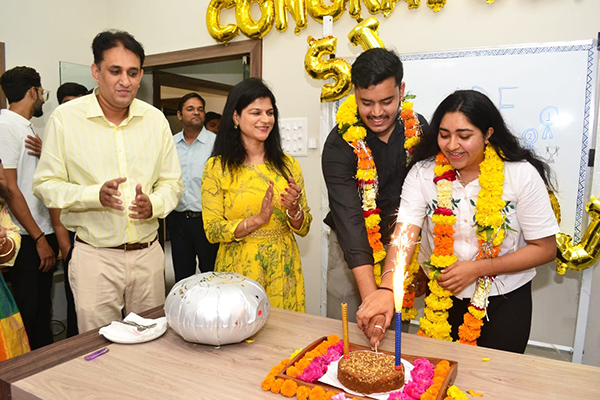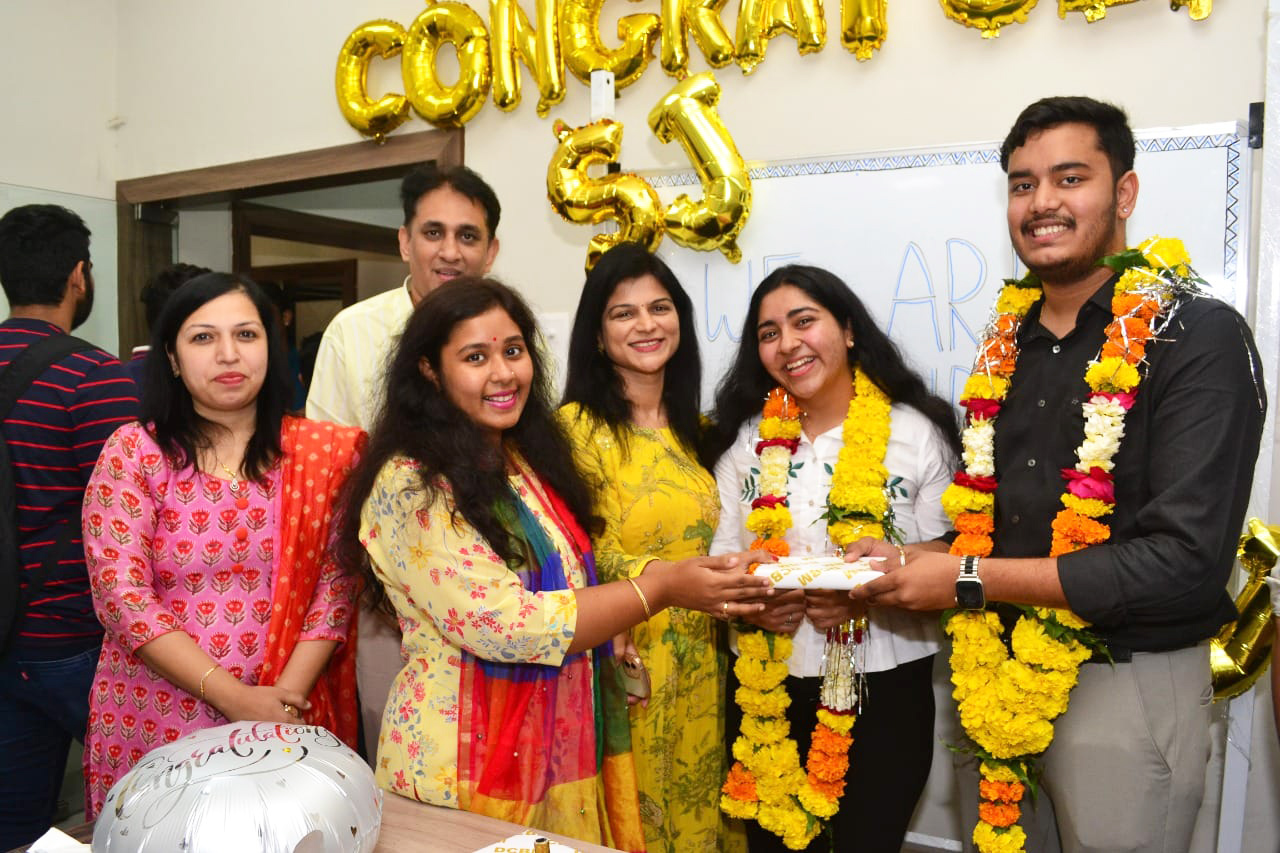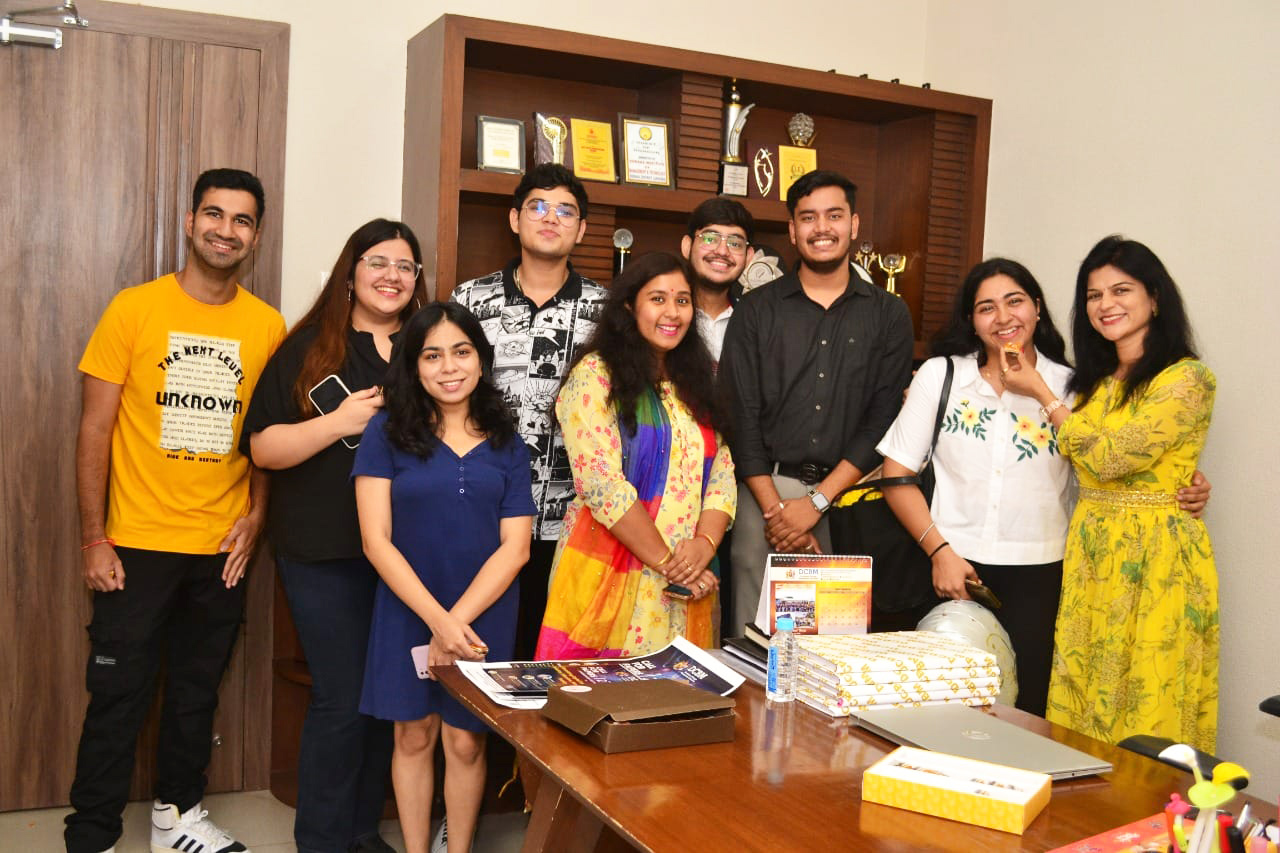 Soham Jain and Disha Jhurani gave stellar performance and topped the DAVV Merit List by bagging the First and Second position respectively!!! The outstanding achievement by the duo resulted in a festive fervour and grand celebration in DCBM campus. Principal Dr Sonal Sisodia and Administrator Mayurdhwaj Singh congratulated the toppers.
---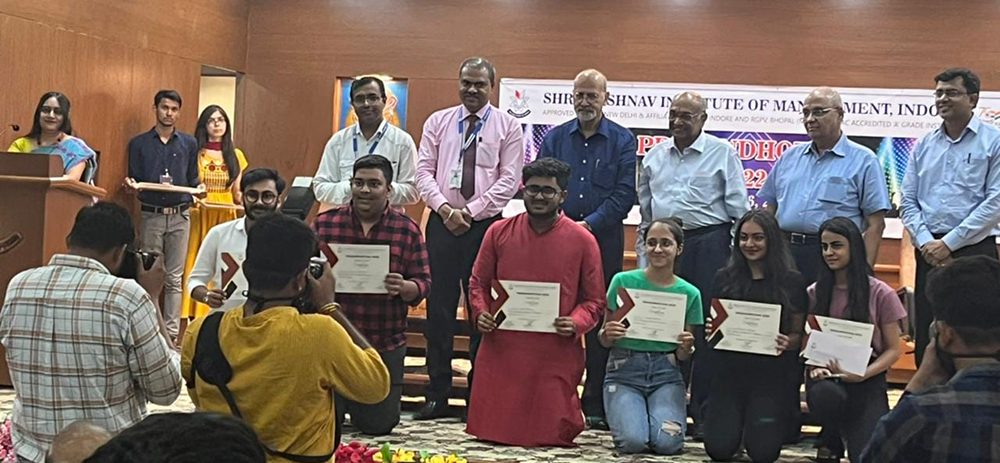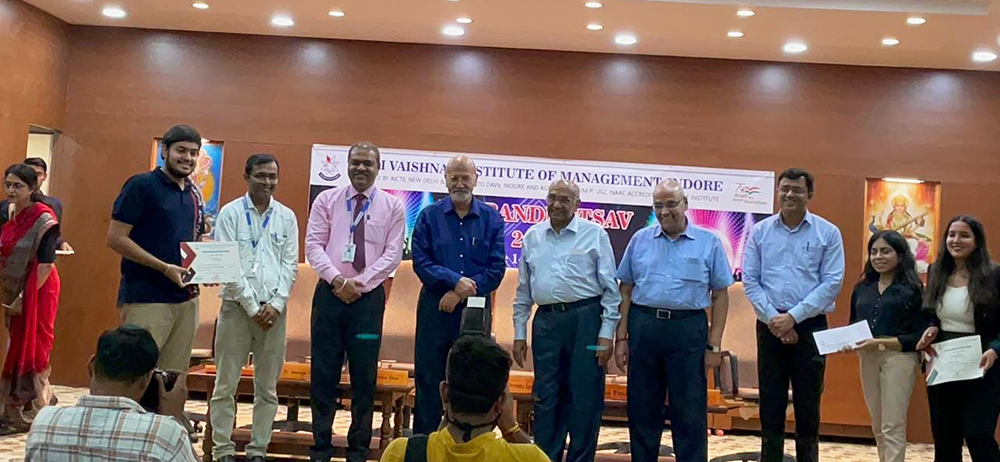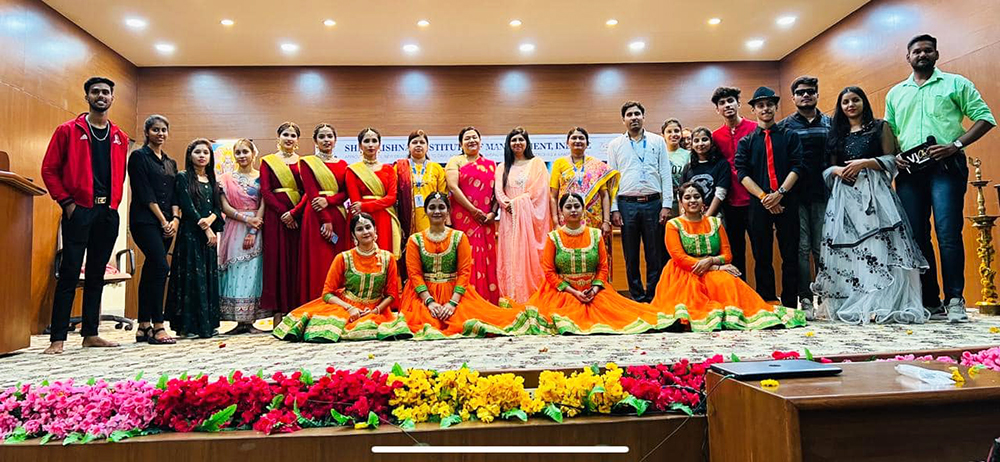 Outstanding performance of DCBM students at the Inter College Management Competition ' Prabhandhotsav '. Team was declared the Winners in 'Business Idea Hunt' , bagged the Runners Up position in Management Quiz and adjudged Runners Up in Ad Mad Show. Winners were awarded with Cash prizes and certificates. Heartiest congratulations to all the winners!
---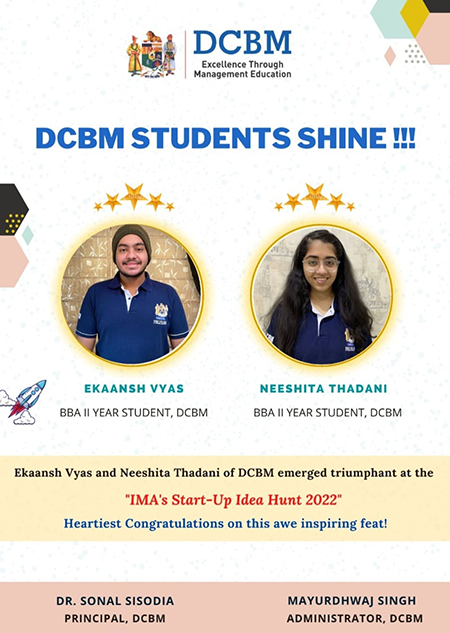 ---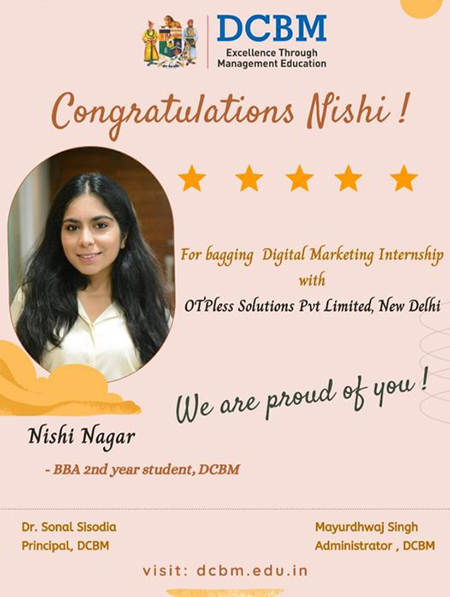 Proud Moment for DCBM as Nishi Nagar 2nd Year Student bagged the Digital Marketing Internship With OT'pless Solutions Pvt.Limited ,New Delhi.
---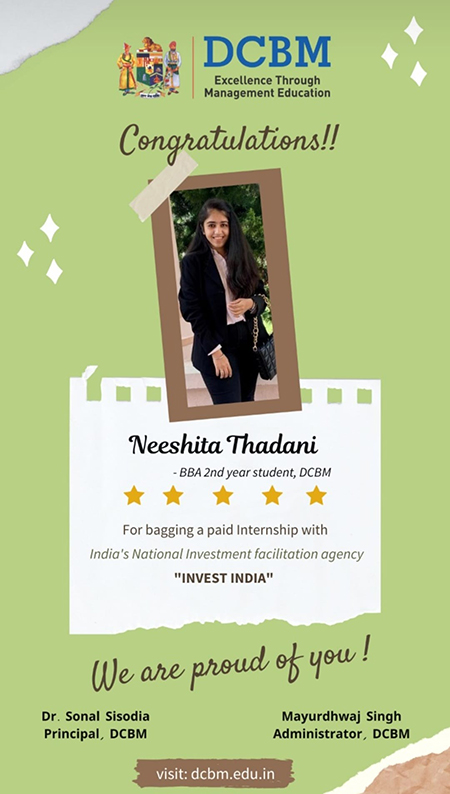 Proud Moment for DCBM as Neeshita Thadani 2nd Year Student bagged a Paid Internship With India's National Investment facilitation agency ' INVEST INDIA '
---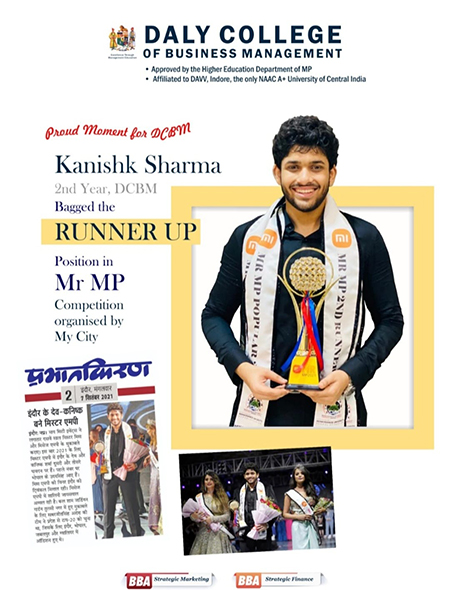 Proud Moment for DCBM as Kanishk Sharma 2nd Year Student bagged the Runner up Position in Mr MP Competition organised by My City.
---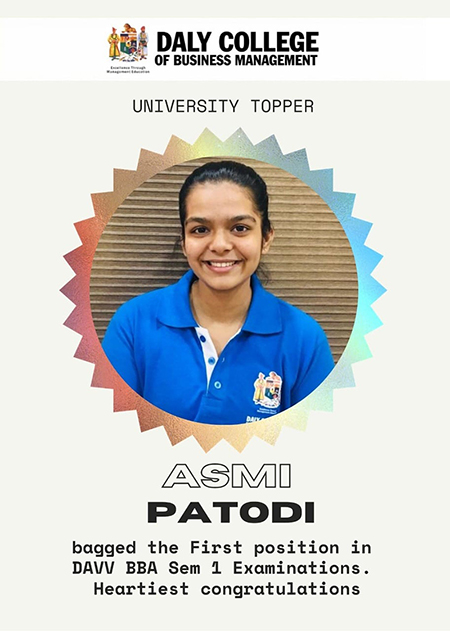 Asmi Patodi bagged the First position in DAVV BBA Sem 1 Examinations. Heartiest congratulations
---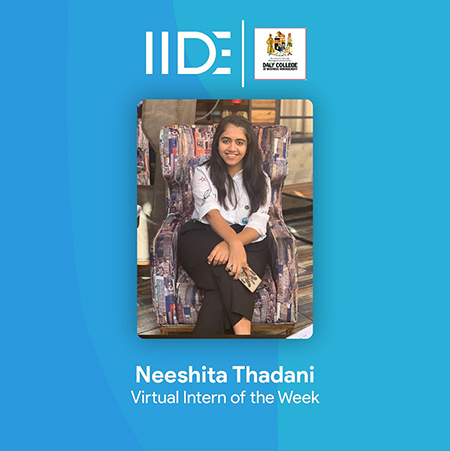 Neeshita Thadani of BBA First Sem won the Intern of the Week Award at the Digital Marketing Internship with IIDE Mumbai. Congratulations dear!!
---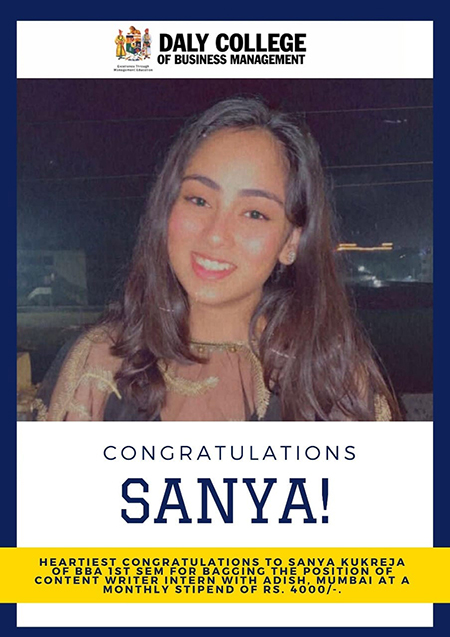 ---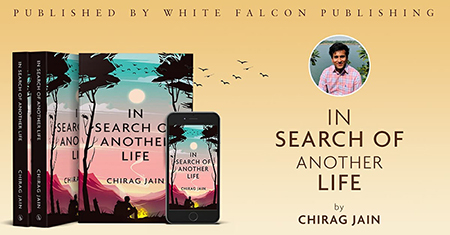 Extremely delighted to announce the release of the book 'In search of Another Life' authored by our Head Boy Chirag Jain. Proud of our star in making!!
---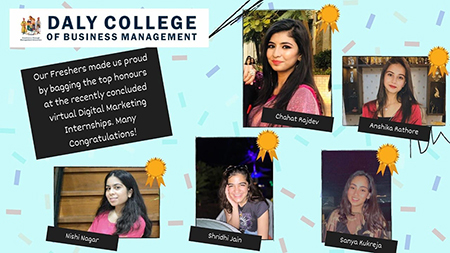 As virtual interns at IIDE, a digital marketing institute in Mumbai, our students learnt to create brand campaigns for company like Oyo, Netflix etc and present it in front of industry experts. From writing blogs & articles, conducting case studies and lead generation to attending masterclasses and webinars on the topics like SEO, Gsuite, LinkedIn etc, the learning and upskilling was a great experience.
---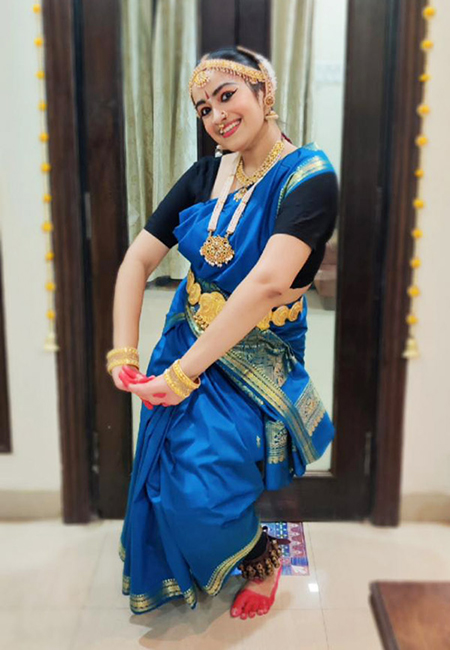 Its a Lockdown Showdown! Urvi Sethia bags the First Prize in an online Intercollegiate Dance Competition. Heartiest Congratulations dear on channelising your creativity, enthusiasm and expressions positively!
---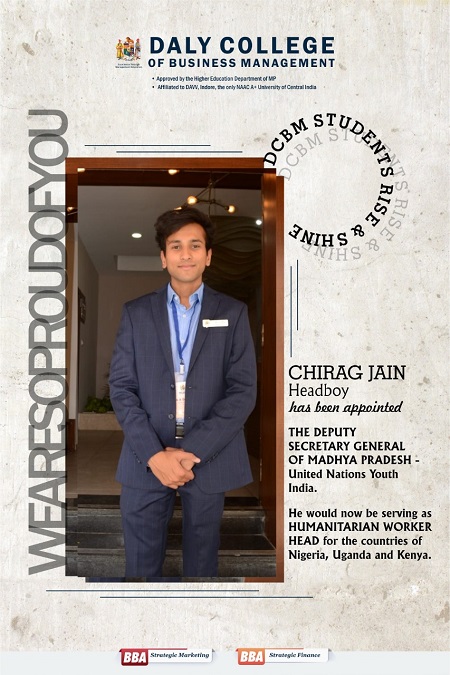 Chirag Jain, Headboy has been appointed the Deputy Secretary General of Madhya Pradesh – United Nations Youth India. He would now be serving as Humanitarian Worker Head for the countries of Nigeria, Uganda and Kenya.
---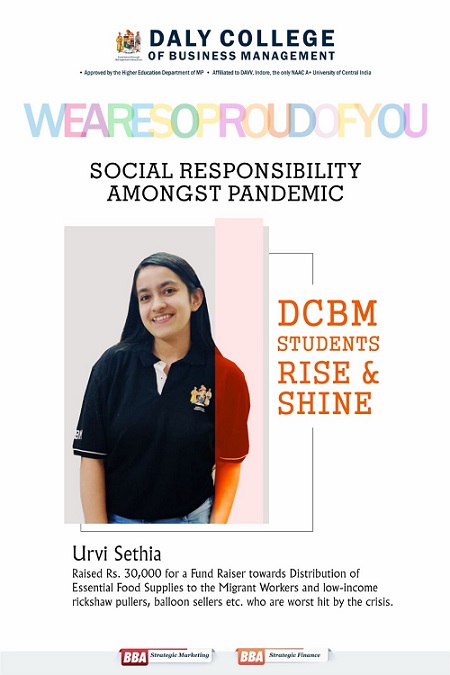 Urvi Sethia raised Rs.30,000 for a fund raiser towards distribution of essential food supplies to the migrant workers and low-income rickshaw pullers, balloon sellers etc. who are worst hit by the crisis.
---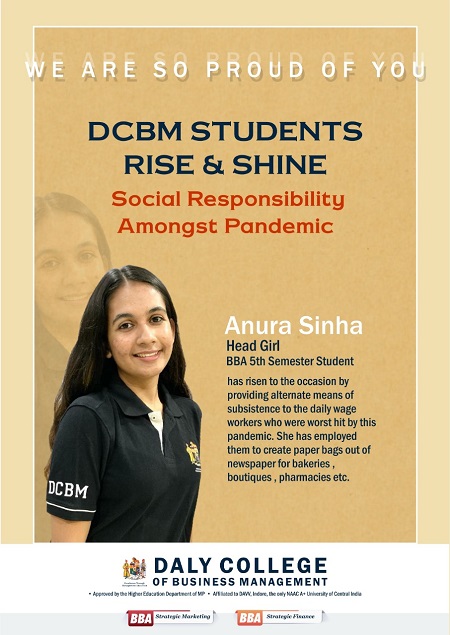 The Head Girl Anura Sinha, a BBA 5 th Semester student, has risen to the occasion by providing alternate means of subsistence to the daily wage workers who were worst hit by this pandemic. She has employed them to create paper bags out of newspaper for bakeries , boutiques , pharmacies etc…We are so proud of you.
---
Heartfelt greetings to the winners of "Creative Sapience'', an event where our students showcased their talents, both existing and newly acquired, in creative ways.
---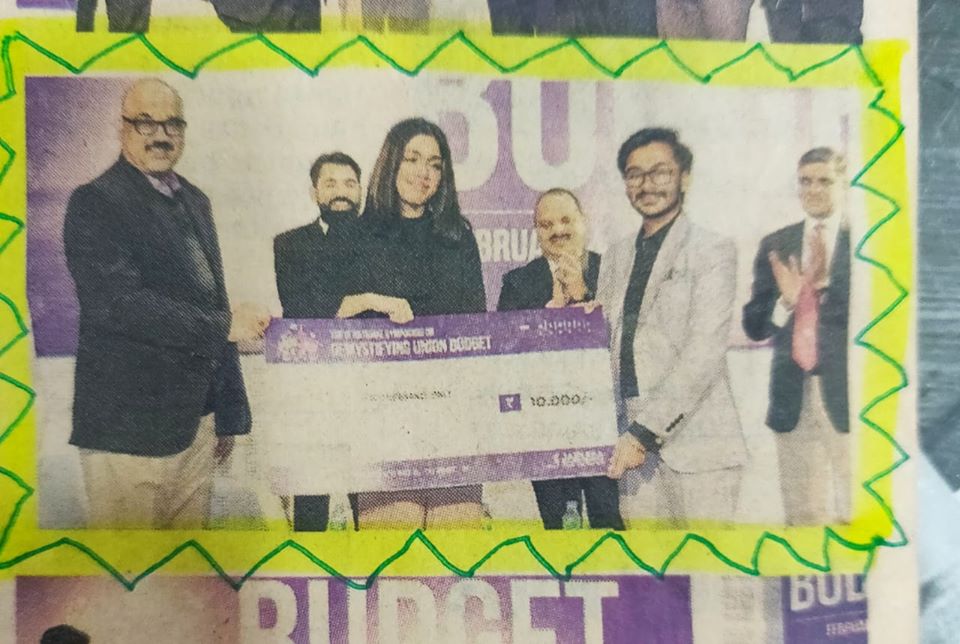 Awards are great but fulfillment, contribution, and passion are better……opined our students Garv Thareja and Mehak Garg who won the first prize of Rs 10,000, featured in The Economic Times and garnered heaps of appreciation at the 9th National symposium on 'Demystifying Union Budget' on 4th February, 2020. The duo emerged triumphant beating 42 other teams from different Management Institutions!!!! Heartiest Congratulations to the duo for this brilliant feat!
---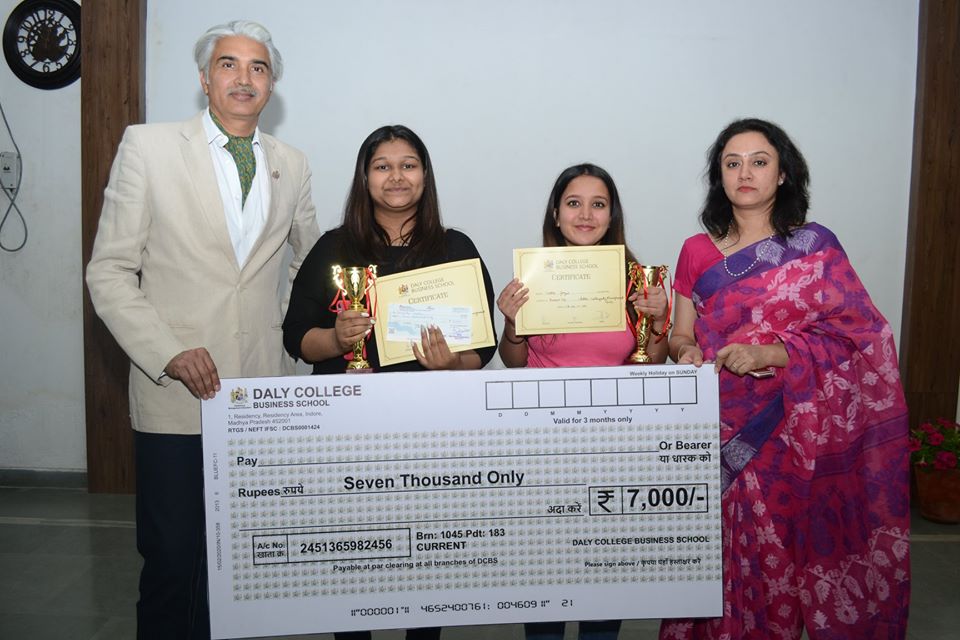 Proving their mettle yet again, Vedika Goyal and Vanshika Laddha lifted the Runners Up Trophies along with a cash prize of Rs 7000 at the Inter College Quiz Competition organised by DCBS. Way to go girls!!
---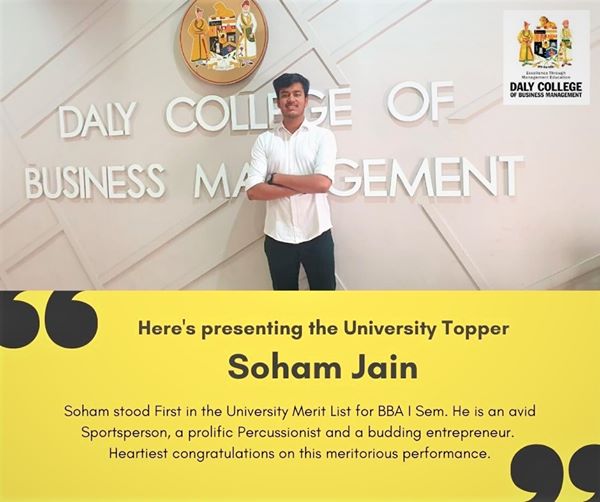 Ability is what you are capable of doing. Attitude determines how well you do it!!! Soham Jain delivered the winning moment by securing the First Position in University Merit List for BBA Sem I. Proud of you dear!!
---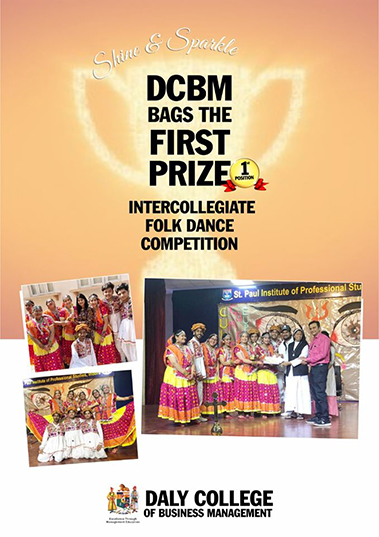 DCBM bags the first prize in Intercollegiate Folk Dance Competition.
---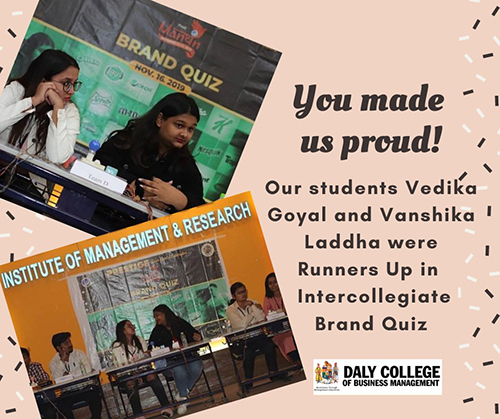 Our students Vedika Goyal and Vanshika Laddha were Runners Up in Intercollegiate Brand Quiz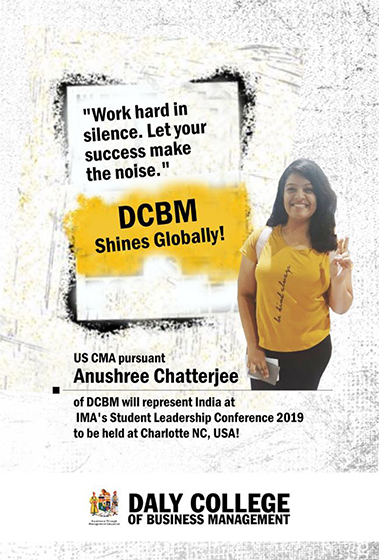 DCBM Shines Globally US CMA Pursuant Anushree Chatterji of DCBM represented India at IMA's Student Leadership Conference 2019 held at Charlotte NC, USA!
---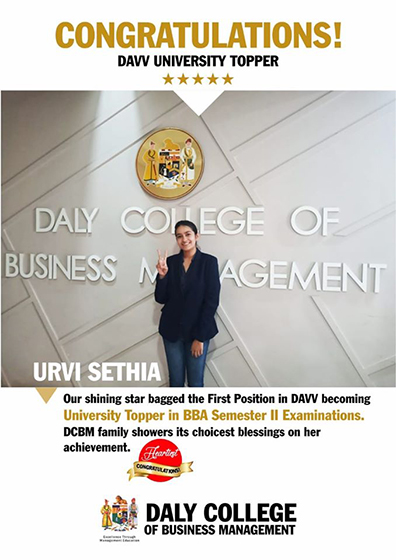 Urvi Sethia our shining star bagged the First Position in DAVV becoming University Topper in BBA Semester II Examinations.
---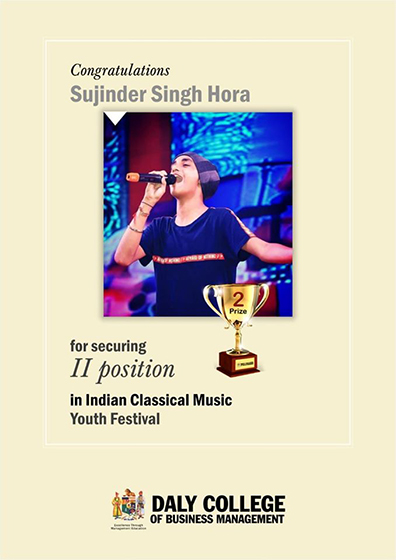 Our singing sensation, Sujinder Singh Hora creates yet another scintillating moment by bagging the second position in Solo singing Classical in DAVV Youth festival!! Keep going!!!